fortnite update v12.50 cleared out all the problems the game was facing. Several popular streamers reached out with their content to express their discontent. While the majority blamed Epic for a 'lack of communication', some believed that the game was dying. Fortnite had lost its fun element. However, things took an epic turn when 12.50 came out. A small update (12.50.2) is out now and will have minor changes. Thanks to iFireMonkey's timely "intel" we now know what to expect from this update.
In the last week, Fortnite has addressed almost every major complaint out there. The community is responding to this quite positively as their demands got delivered. This was a brilliant move from Epic Games. Fortnite is definitely on its way to becoming the most popular game once again.
Fortnite recently brought the Star Wars skins back in action, inspiring the force to bring back some players. Just the other day, the official tweet mentioned that players had spent more than 3.2 billion hours in the game.
Fortnite Rolling Out Updates Rapidly
FireMonkey • Fortnite Intel @iFireMonkey
Update is called v12.50.2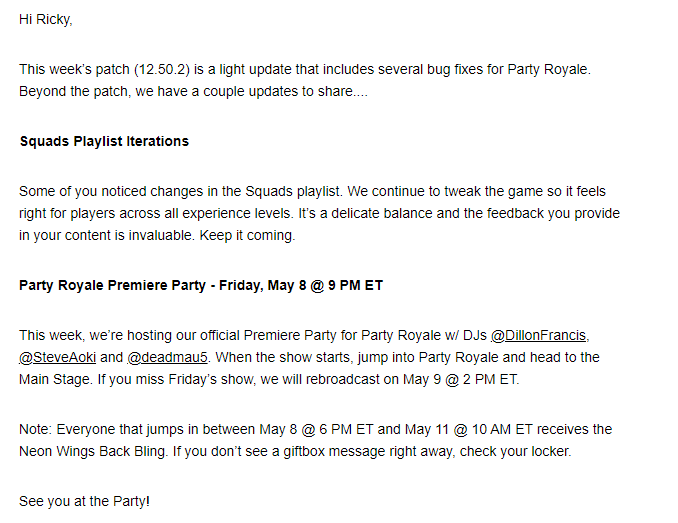 1,7467:10 PM – May 6, 2020Twitter Ads info and privacy160 people are talking about this
This is not as big as the last one, and it is mostly an improvement of what they missed with 12.50. The 12.50 update revolutionized a lot of things. Nerfing OP guns, limiting aim-assist frame rate for PC. Fortnite also removed the highly debated SBMM from squad mode. People complained the game was not fun anymore. Since then Party Battle Royale was introduced too.
Fortnite is doing its best to revive the game we love. To think clearly, the lockdown situation has stopped almost free v bucks codes everything. However, Epic is dishing out updates, hosting concerts, breaking all-time records, improving community friendliness. All signs point to the fact that they are indeed gearing up for something bigger. 
Read More – Fortnite Future Changes Being Driven By An Internet Influencer
12.50.2 Will Not Have Major Changes
FireMonkey • Fortnite Intel @iFireMonkey
Only thing patch v12.50.2 brought was bug fixes for Party Royale and localization update for some of the other languages who had miss-spelled words due to poor translations from Epic.1,49111:19 PM – May 6, 2020Twitter Ads info and privacy95 people are talking about this
This update will check in on the SBMM issue as well as give an updated playlist for squads. Other than that, it's pretty minor. Recently, iFireMonkey posted on Twitter – "Only thing patch v12.50.2 brought was bug fixes for Party Royale and localization update for some of the other languages who had miss-spelled words due to poor translations from Epic."
He is quite dependable when it comes to providing proper information. We also learned that the devs have fixed most of the Party ROyale bugs. However, the promise of bigger changes is not far away. Fortnite will feature @DillonFrancis, @deadmau5, and @SteveAoki. Party Royale premiere party will be on Friday, May 8 at 9 PM ET.TAGS